Mobile Device Management
Mobile Device Management is a solution to configure mobile handset, manage profiles, update firmware and distribute applications Over The Air OTA.

It is now clear that companies are accelerating the rollout of mobility solutions among their employees, enabling them to connect to the company's IT system from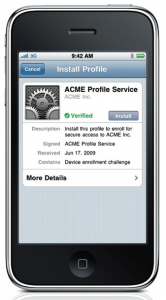 anywhere they happen to be, via smartphones and devices and the wireless connectivity of mobile operators.
In this context, the challenge resides in supplying a sophisticated, high-performance, always on service in a business environment.
Mobility Valley softwares are offering a suitable response to this challenge.
Thus the first solutions on the mobile applications market only permitted access to messaging services, calendar and contacts management. Nowadays the market is now moving in the direction of sales force automation and field force automation applications as well as other Web services.
Such solutions interact with critical business applications so that reliability and security are increasingly important.
A central player in the mobile market, Apple, is not only a supplier of high-performance mobile device but has enabled use of Mobile Device Management solutions on he iPhone.
Mobility Valley rely on five functional dimensions:
Mobile profiles OTA distribution
OTA application distribution functions
High security functions such as integration with PKI
In-House and Adhoc pps distribution for corporate Apps
Mobility Valley has a strong expertise on the normalisation of this solution submitted by the Open Mobile Alliance know as OMA DM.